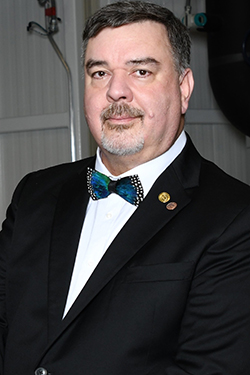 Presentation
ASHRAE President Charles Gulledge will give a speech to both the Wisconsin and Illinois Chapters. The outline of the speech will be as follows:
Summary: Digital transformation is not simply associated with adopting new technical solutions. Knowledge needs to be captured and linked in such a way that ALL relevant stakeholders' benefit. Doing so requires understanding of how to collect, store, and analyze data; so that it is insightful and actionable. The ASHRAE Digital Lighthouse and Industry 4.0 focuses on reimagining the building industry by not only integrating industry segments, but technology. This presentation will examine how ASHRAE will lead the industry in becoming a part of the digital transformation that will guide the building industry into the next decade and beyond.
Course Outline:

Transformation Connection
Current Industry State
Lean Collaboration
Digital Transformation
Off-Site Construction
The Digital Age of Connection

Assessment of Learning (Objectives):

Assessment of Waste and lack of Productivity in the HVAC Ecosystem.
Understand the role of Lean and Collaboration in removing Waste
Implement Digital Technologies to improve Productivity and generate Value
Implement Design for Manufacture and Assembly (DfMA) strategies to remove Waste and improve Value
Evolve in a Digital World
Speaker Bio:
Gulledge has served as chair of the Members Council and the President-Elect Advisory Committee, chair of the Finance Committee, chair of the Standards Membership Ad Hoc Committee, chair of the Development Committee for Fundraising, and as an ASHRAE Distinguished Lecturer. He has held ASHRAE Society-level leadership roles on many standing committees, technical committees and presidential ad hoc committees.
In addition to his contributions to ASHRAE, Gulledge's career in HVAC spans over 36 years. He entered the industry as an engineer-in-training with Parsons Brinckerhoff Quade & Douglas, working on transit system infrastructure, vehicular tunnels and moveable swing-span bridges. Over his career, he has served the built world in the roles of a consulting engineer, municipal owner and design-build contractor. Gulledge is currently a Senior Mechanical Engineer with Environmental Air Systems, LLC. He is registered as a professional engineer in the states of North Carolina, Georgia, Kentucky, South Carolina, Alabama and Virginia.
Gulledge's comprehensive design, construction and operational portfolio covers a variety of market sectors; including transportation, commercial, educational, institutional, lodging, sports, mission critical, life sciences, healthcare, pharmaceutical, manufacturing, industrial, archival, historical, and hospitality.
Gulledge is a 1983 graduate of North Carolina State University with a Bachelor of Science in Mechanical Engineering.
Agenda:
Tuesday, February 9th, 2021

Time:
12:00- 1:00
Location:
Virtual Meeting (Via Zoom)
https://hga.zoom.us/j/4550689254
Disclaimer: This meeting will be automatically recorded for future viewing. By joining this meeting, you are consenting to be recorded.