January – Focus on Energy Presentation
The Wisconsin Chapter of ASHRAE is proud to announce that on Thursday, January 19th, Travis Jones & Leah Maggio will be presenting on Focus On Energy (FOE).
Focus on Energy is a statewide energy efficiency and renewable resource program that helps empower the people and businesses of Wisconsin to make smart energy decisions with enduring economic benefits. FOE helps WI residents and businesses implement energy efficiency and renewable energies on projects by providing information, resources, and financial incentives.
Travis Jones is a Trade Ally Manager for FOE and has experience with many of the FOE programs and projects. Leah Maggio is an Energy Advisor and provides technical support for FOE projects.   Their combined experience will make for a great presentation for those who are interested in learning more about Focus on Energy, as well as for those who have specific questions about the FOE programs.
The program will be held at Ring & DuChateau.
For those attending:
Parking is available in curb-side parking spots on the north side of Crest Hill Drive.
Street parking is available on the south side of the road on Crest Hill Drive. Please avoid parking on the north side of the street so that emergency vehicle access is maintained.
Parking in the lots directly north and east of the Ring & DuChateau office is reserved for employee's.
Carpooling to the meeting is appreciated.
The address for Ring & DuChateau is 17400 West Capitol Drive, WI (Directions and Details).
See below for highlighted parking areas.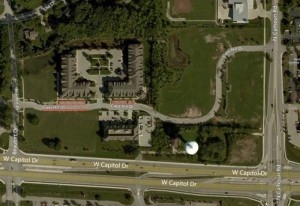 Agenda
January 19, 2017
11:15 AM – 12:00 PM – Socializing & Networking
12:00 PM –  1:00 PM  – Luncheon & Presentation
Remember to encourage your friends & coworkers to sign-up and attend the Wisconsin Chapter ASHRAE meetings. Feel free to invite individuals that may be interested in joining our field. ASHRAE meetings serve as a great way to learn about our industry, and offer a great networking opportunity.
Please REGISTER today!